NEWS | REVIEWS |PRESS | CONTEST |




(Check the official MySpace page or the Boston Spaceships twitter feed for additional updates)
---
09.19.2011: LET IT BEARD DEMOS!:
CD (internet only/limited edition of 500) coming out on Happy Jack of Robert Pollard's 26 living room Let It Beard boombox demos for $5 -- a steal. Pre-orders up now on Rockathon Records, out Oct 25.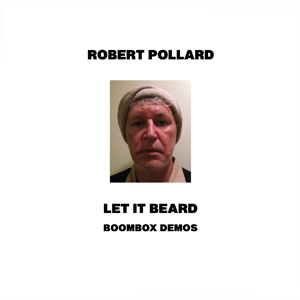 ---
08.26.2011: WINNER OF THE CHRISTMAS GIRL VIDEO CONTEST!
Congrats to Rich Tarbell of Charlottesville, VA, for his winning entry. Take another look:
---
08.22.2011: CHRISTMAS GIRL VIDEO CONTEST FINALISTS HAVE BEEN CHOSEN!
We had a fantastic response to the contest (awesome submissions) and finalization took longer than expected. We've narrowed the field to four finalists. Check out the CONTEST PAGE for the details and start voting now!
UPDATE 6:30PM: THE CONTEST VOTNG HAS BEEN RESTARTED DUE TO AN ERROR IN THE DATABASE WHICH ALLOWED FOR MULTIPLE VOTES. WE APOLOGIZE FOR THIS ERROR -- THE ONLY WAY TO CORRECT IT IS TO BEGIN AGAIN FRESH. LET IT BEARD, LET IT BEARD... VOTE AGAIN!
---
08.04.2011: TABBY AND LUCY VIDEO
Cinematography by: John Clark
Edited by: Chris Slusarenko
Featuring footage from the film 'Eventually I Wrote Some Lyrics'

---
08.02.2011: TABBY AND LUCY VIDEO PREMIERE:
Consequence of Sound's Cluster One TV debuts the new Tabby and Lucy video from Let it Beard.
---
08.02.2011: TODDLING TOWARDS GREATNESS:
23 month old "Ice Cream" Clyde shows you've never too young to rock.
---
07.26.2011: PITCHFORK PREVIEW:
Pitchfork has a preview of Let it Beard's first single, Christmas Girl.
---
07.22.2011: VERY COOL LET IT BEARD INSPIRED ART:
Artist Scott Brothers shows us his very cool "comic book ad for a line of Magical Musical Beard Kits inspired by Let it Beard." Great stuff, Scott!
---
07.19.2011: NEW TRACK PREVIEW!:
Prefix magazine previews Lucy and Tabby from Let it Beard, calling the new double LP "a true gem."
---
07.16.2011: MICRO-INTERVIEW WITH CHRIS SLUSARENKO:
Magnet magazine blurbs about Let it Beard and talks briefly with Chris about the new double album.
---
07.14.2011: KICK OUT GREAT JAMS:
Austin Town Hall previews Christmas Girl and Lucy and Tabby anticipating Let it Beard to be "one hell of a collection of Pollard tunes."
---
07.11.2011: CHRISTMAS GIRL SINGLE PREMIERE AND VIDEO CONTEST!
AOL's Spinner premieres the new Let it Beard track, Christmas Girl, and announces a fan video contest for the song. See all the details here: VIDEO CONTEST RULES!
---
06.28.2011: TRAILER FOR THE NEW ALBUM, LET IT BEARD, OUT AUGUST 2ND, 2011!
---
06.27.2011: VIDEO PREMIERE OF THE NEW ALBUM TRAILER!
AOL's Spinner premieres the new Let it Beard album teaser trailer. The immense and intense Guided by Voices, Inc., double-LP Let It Beard will be available in stores on August 2nd, 2011 and can be pre-ordered now from Rockathon Records!
---
05.13.2011: LET IT BEARD, DOUBLE LP, ANNOUNCED
Under the Radar notes the announcement of The Boston Spaceships new double-LP Let It Beard, available in stores on August 2nd, 2011!
---
11.01.2010: GBV NYE 2K10:
The classic lineup GBV tour rages onward with a sold out New Year's Eve show at New York City's Irving Plaza.
---
10.05.2010: NEW 'FREEDOM RINGS' VIDEO
Directed by William Landers:
---
09.29.2010: GBV DIGITAL LAUNCHES:
GBV Digital is now up and running, with most of the Guided By Voices, Robert Pollard, and Boston Spaceships catalogs available for purchase and still more to come. Live recordings from the reunion tour are also available!
---
09.22.2010: BRIEF INTERVIEW WITH BOB:
Hey, did you hear that Bob's getting the band back together? Front Row in Dallas talk with Robert Pollard about the GBV reunion and The Boston Spaceships.
---
08.03.2010: OUR CUBEHOUSE STILL ROCKS PREORDER!:
Pre-order the latest Boston Spaceships LP, Our Cubehouse Still Rocks, from The Factory of Raw Essentials
(the official Robert Pollard store) today! Official release date is September 7th, 2010.
---
07.29.2010: THE SCOOP:
Pitchfork fills in some details, including the Guided by Voices reunion tour, new albums, and the art show. Oh, and they've got a Boston Spaceships MP3 available for download too!
The Onion's AV Club has this covered as well.
---
07.27.2010: DO THE COLLAGE, PART 2 - THE PUBLIC HI-FI BALLOON:
Coheck it out:THE 45 SPACE, New York - "The Public Hi-Fi Balloon," an exhibit of collages by Robert Pollard incorporating pictures, words, and sound, will be held on August 27 and 28, 2010.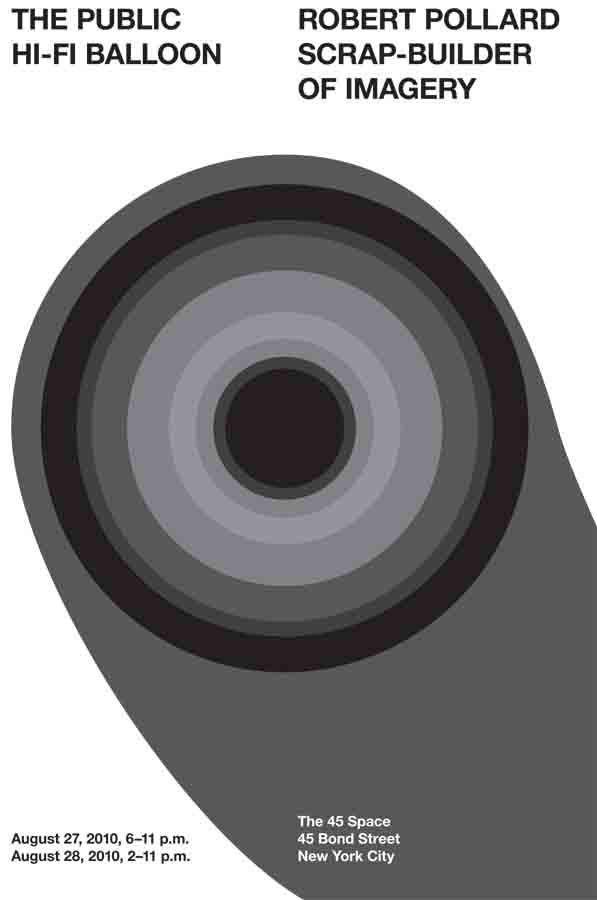 ---
07.15.2010: MOTHER F'ING G-B-V:
Holy shit. Reunion tour. Classic lineup. USA. The Hallway Of Shatter-Proof Glass Tour. See you on the road.

---
06.28.2010: GBV IN VEGAS:
The "classic" '93-'96 line-up of Guided by Voices, including Robert Pollard (vocals), Tobin Sprout (guitar, vocals), Mitch Mitchell (guitar), Greg Demos (bass) and Kevin Fennell (drums), will play Matador's 21st birthday show in Las Vegas.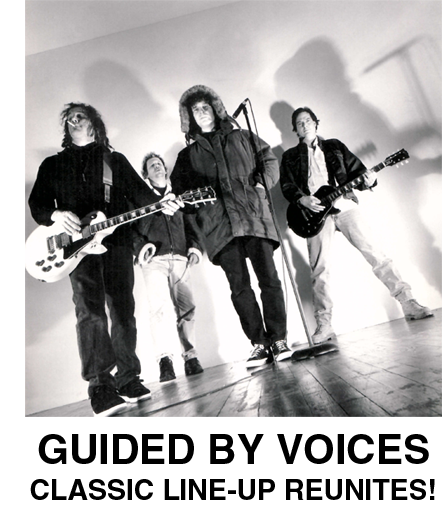 ---
06.22.2010: PRE-ORDER MOSES ON A SNAIL:
Get Robert Pollard's latest masterpiece, Moses on a Snail, now at Rockathon.
---
04.30.2010: HE WRITES MUSIC FOR SOUNDTRACKS NOW:
Bob wrote music for the new Pete Rose documentary, 4,192. SPIN spoke to Bob -- and have an MP3 as well.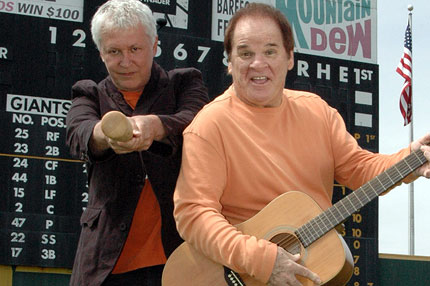 ---
04.02.2010: ROBERT POLLARD, HALL OF FAMER:
You try throwing a no-hitter, motherfucker. Bobby Pollard made it in (so did Jimmy). Mentioned here and here too.
---
03.05.2010: MAJOR CONTEST -- WIN SOME BS!:
Next week, The Best Show on WFMU (hosted by Tom Scharpling and former Robert Pollard rocker Jon Wurster) are holding their annual pledge marathon to raise money for the listener supported radio station that has always been such a big supporter of all things Robert Pollard.  They've got a pretty amazing gift already for pledging during their show (a DVD featuring Zach Galafanakis, Todd Barry, Yo La Tengo, Patton Oswalt, Fucked Up, Tim and Eric, Kurt Vile, John Hodgman and more, a set of Best Show trading cards and a bumper sticker too).   
In turn, Boston Spaceships have put together a rare, special one of a kind package that will be given away as a grand prize to a lucky listener who pledges $75 or more during next Tuesday's Best Show marathon.
Boston Spaceships/Best Show grand prize:
-Vinyl copy of Brown Submarine
-Vinyl copy of Planets are Blasted
-Vinyl copy of Zero to 99
-Out of print 7" (featuring 3 exclusive song) "Headache Revolution"
-Double Vinyl Licking Stamps And Drinking Shitty Coffee - Boston Spaceships Live in Atlanta Bootleg with CDR-limited to 500
-rare, limited full color Boston Spaceships beer abduction block print by Sean Starwars not yet available to the public
-and the biggie: a 7" test pressing of the upcoming Boston Spaceships 7" Camera Found The Raygun complete with printed 7" sleeve.  Only 5 test pressings exist.  Get 4 new exclusive songs into your arms and ears before the official release date.  
So be sure to listen and pledge this Tues. March 9th from 8-11pm EST and support a supporter!
---
02.09.2010: CAMERA FOUND THE RAY GUN EP PREORDER!:
Pre-order the new Boston Spaceships EP, Camera Found the Ray Gun, from Jackpot Records. 4 tracks of exclusive, new material with an official release date of March 23rd, 2010. Limited to 500 vinyl copies -- available for pre-order now!
---
01.31.2010: ROBERT POLLARD - THE SOLO YEARS, PART 1:
Perfect Sound Forever music magazine has posted part one of their multi-part history of all things Bob in his post-GbV career. A Boston Spaceships write-up is sure to come. Eventually.
---
01.18.2010: MAGNET SETS THE STAGE FOR "ANOTHER AMAZINGLY PROLIFIC YEAR":
Check out Magnet's MP3 preview of Talking Dogs from the new Robert Pollard album, We All Got Out Of The Army, available for pre-order from the Factory of Raw Essentials now!
---
01.13.2010: 4TH ALBUM AND NEW EP COMPLETED:
The boys have completed work on their 4th album and an upcoming EP. Watch for more updates soon -- and then check the Factory of Raw Essentials for ordering information!
---
01.07.2010: BOB IN GQ:
Robert Pollard provides GQ with some advice on how to become a more productive man.
---
12.31.2009: ZERO TO 99 IS #8:
Magnet ranks Zero to 99 at number 8 n their top 20 of 2009 countdown, saying the album "is as quirky, melodic, catchy and life-affirmingly amazing as Guided By Voices."
---
12.30.2009: BOB AND HIS GHETTOBLASTER:
Ghettoblaster magazine features Robert Pollard on their cover. Get the issue. Get the t-shirt.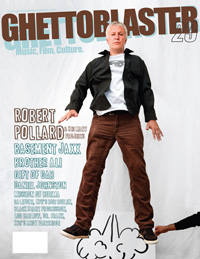 ---
12.27.2010: GILLARD LAYS DOWN SOME LICKS FOR THE NEXT ALBUM:
Doug Gillard, of Guided by Voices fame, will contribute to the next Boston Spaceshps record, Our Cubehouse Still Rocks.
---
12.16.2009: LET IT REST FOR A LITTLE WHILE VIDEO:
Directed by Todd Lamb. Starring competitive eater Tim "Eater X" Janus.
---
11.25.2009: NEW DOUBLE LIVE ALBUM AVAILABLE FOR ORDER NOW!:
Go to the Factory of Raw Essentials to get the new, limited edition double LP (which includes a CDR) Licking Stamps And Drinking Shitty Coffee - Boston Spaceships Live in Atlanta, featuring select tracks from the Boston Spaceships show in Atlanta, GA, on October 17, 2008. Limited to 500 copies; one LP orange, other LP black!
---
11.17.2009: DEVIL WENT HOME AND PUKED DVD IS "HIGHLY RECOMMENDED":
A fantastic review of the newest Robert Pollard DVD from DVD Talk earns our highly recommended rating.
---
11.01.2009: MORE LOVE FROM PADDY
The brilliant Paddy Considine (actor, rocker, fan) shares some music faves in a recent Mojo Magazine inteview. Zero to 99, as well as Bee Thousand and Under the Bushes, Under the Stars are mentioned as faves. The man has impeccable taste.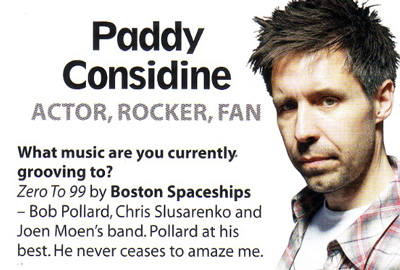 ---
10.23.2009: POLLARD OR SPAM?:
Test your Bob Pollard song title memory over at Paste magazine's "Spam E-Mail or Bob Pollard Song?".
---
10.14.2009: UNPACKING THE SUITCASE:
The 3rd Suitcase 4 CD collection of Guided by Voices rarities, demos, and impromptu (acoustic!) jams is available for preorder now! There's a new Briefcase too (limited edition red vinyl)! Get some!
P.S. 4 SUITCASE TRACKS WILL GET THE "BOSTON SPACESHIPS" TREATMENT ON OUR 4TH ALBUM.
---
10.08.2009: TOP JAM OF THE WEEK:
I Rock Cleveland has named How Wrong You Are as their Top Jam of the Week.
---
10.08.2009: ROBERT POLLARD COLLAGE SALE:
Take a look at Robert Pollard's art for sale (including the cover art for Zero to 99 as well as many others) in October, most never before available:
DO THE COLLAGE (framed art)
ROCKTOBER COLLAGE SALE (unframed art)
---
10.07.2009: SPACESHIPS SHIRT SIGHTING:
The brilliant Paddy Considine shows some Spaceships love while promoting his new film, Le Donk. You can get your official Boston Spaceships shirts at The Factory of Raw Essentials.
---
10.07.2009: A SONG BLENDER REALLY LOVES:
Blender picked How Wrong You Are as one of their 5 New Songs We Love for October.
---
10.02.2009: HOW WRONG YOU ARE VIDEO!:
Stereogum hosts the debut Zero to 99 video for How Wrong You Are. Check it out.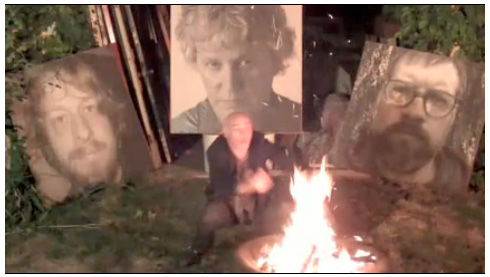 Watch on YouTube: Boston Spaceships - How Wrong You Are
---
09.29.2009: HOW WRONG YOU AREN'T?:
The new album gets some strong words of praise from Magnet magazine while debuting Zero to 99's 2nd track, How Wrong You Are. Go listen to "possibly the best song Robert Pollard has recorded since the demise of Guided By Voices."
---
09.25.2009: DAZED BUT NOT CONFUSED:
Bob answers some questions for UK mag DAZED and talks about his current position: "I'm the captain of more than one ship."
---
09.22.2009: MAGNET PREVIEW + MP3!:
Magnet magazine previews the new album, Zero to 99, and lets you get a listen to Question Girl All Right.
---
09.09.2009: PRE-ORDER THE NEW ALBUM NOW!:
The new album, Zero to 99, is available for pre-order now! Visit the Factory of Raw Essentials now!
---
02.21.2009: TOMMY KEENE INTERVIEWS CHRIS SLUSARENKO:
Tommy and Chris talk about Boston Spaceships at Magnet. Be sure to read that last question... 0 to 99!
---
02.17.2009: DIGITAL VERSION AVAILABLE AT FINA MP3 STORE NOW!
$10 gets your planet blasted right now.
---
02.13.2009: FANTASTIC COVER INTERVIEW WITH BOB AND LOTS OF COLLAGE ACTION TOO:
Check out the cover story in IRT magazine's Winter 2009 issue...

---
02.09.2009: BOSTONSPACESHIPS.COM 2.0
Relaunch of the web site. More to come!
---
01.31.2009: MAGNET READERS ARE LOOKING FORWARD TO SOME BS
The Planets Are Blasted won Magnet's "What February Album Are You Most Looking Forward To?" online poll.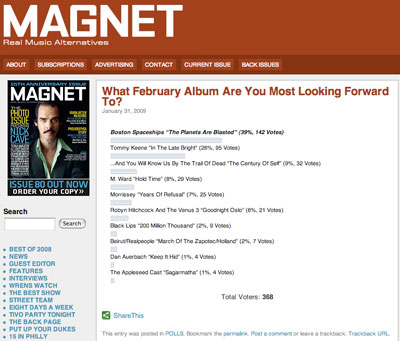 Boston Spaceships in #1 and Tommy Keene (Boston Spaceships touring spaceman) in #2.
---
01.30.2009: PRE-ORDER THE NEW ALBUM, THE PLANETS ARE BLASTED
RELEASE DATE FEBRUARY 27 2009. (GUIDED BY VOICES INC 5). Guests include a string trio, Greg Demos (GBV 1990-99), Gary Jarman (The Cribs) and Chris Funk (The Decemberists). Following a 4-star review in Mojo and a successful whirlwind U.S. tour, Boston Spaceships return to Earth with their sophomore album just 5 months later!

The nuanced and transcendent rock album culminates in an extraordinary side 2 with four of Pollard's best yet:
- the majestic and metaphorical "Queen of Stormy Weather" who threatens to "pee on my parade."
- "The Town That's After Me" combines acoustic, electric guitar and strings to stunning effect.
- "Sight On Sight," a 4-minute mini-epic, detours to otherworldly chants, echoes and drones, sitars, handrums and tambourines, but rocks like heck.
- the verse of "Heavy Crown" is melodically reminiscent of the Guided By Voices hit "Everywhere With Helicopter", but Pollard ups the ante with an even better chorus and then goes over the top with a still catchier refrain.
Another Pollard classic. ORDER NOW!
ALL PLANETS ARE BLASTED VINYL ORDERED FROM ROCKATHON WILL COME WITH A BURNED COPY OF THE CD INCLUDED WITH THE VINYL. THIS OFFER IS ONLY AVAILABLE THROUGH ROCKATHON. SPECIAL PRICING OPTION FOR ORDERING THE PLANETS ARE BLASTED PLUS THE NEW BOSTON SPACESHIPS HEADACHE REVOLUTION 7"
---
12.24.2008: BROWN SUBMARINE MAKES MAGNET'S TOP 25 OF 2008
The complete list.
---
12.10.2008: PRE-ORDER HEADACHE REVOLUTION 7"
RELEASE DATE DECEMBER 30 2008 - 500 COPIES/BLACK VINYL/WEB ONLY.
The boys are at it again. Right on the heels of the smash debut album Brown Submarine, comes this 7" featuring the single from their next release The Planets Are Blasted. Bob, Chris and John rock out on Headache Revolution on the A Side while the B Side finds 3 NON ALBUM tracks from the Spaceship gang.
B SIDES :
1) Demntia Is Rising
2) Take That Off (And Put This On)
3) 7 Is The Hot Noose
---
09.15.2008: VIDEO CONTEST WINNER
Congrats to TheManSherm, winner of the 2008 Fan Video Contest for Winston's Atomic Bird.
---
09.08.2008: VIDEO CONTEST VOTING BEGINS
The 2008 Fan Video Contest for Winston's Atomic Bird, the lead track from Brown Submarine, is underway. Vote now!
Good luck to the final contestants and thanks to all who entered.
---
09.07.2008: INTERVIEW WITH BOB
Check out this recent interview. "This is the first real tour I've done since Guided By Voices broke up," Pollard said. Boston Spaceships tour dates are live -- get your tickets now!
---
08.27.2008: FIRST REVIEW IS IN
Check out the first review at LosingToday.
---
08.11.2008: PRE-ORDER BROWN SUBMARINE NOW!
The new album from Boston Spaceships, Brown Submarine, is available for pre-order online now! Check it out at Rockathon Records...
A few notes: as with Off To Business, all vinyl ordered through Rockathon will come with a CDR of the album. Revolver decided to move the release date, so the album will be in stores September 16th. Our plan is to ship them much earlier. Hopefully last week of August or first week of September depending on when we have product. Order now!
---
07.29.2008: VIDEO CONTEST
We are pleased to announce the 2008 BOSTON SPACESHIPS FAN MUSIC VIDEO COMPETITION!!! Featuring Winston's Atomic Bird, the lead track from Brown Submarine.
GRAND PRIZE: An autographed vinyl copy of Boston Spaceships debut album, Brown Submarine, signed by the entire band!
---
07.29.2008: LIMITED EDITON WEB EXCLUSIVE 7"
BOSTON SPACESHIPS - YOU SATISFY ME 7" (HAPPY JACK ROCK RECORDS - 18)
RED VINYL - LIMITED 500 COPIES