---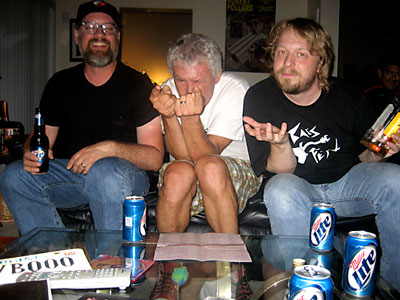 Boston Spaceships are:
JOHN MOEN (Perhapst, Decemberists, Jicks, Elliott Smith, Dharma Bums)

ROBERT POLLARD

CHRIS SLUSARENKO (Takeovers, Guided By Voices, Svelt, Sprinkler)
In 2007, after swearing off ever starting another band and enjoying a successful solo career for a half-decade since ending Guided By Voices, Robert Pollard was seduced by the camaraderie of former Guided By Voices bassist Chris Slusarenko and John Moen and launched the Boston Spaceships, putting out four LPs in less than 3 years. Now, in 2011, on their fifth record (and first double LP), Let It Beard, they are still primed to seduce fans and critics alike with Pollard's relentlessly melodic, hook-laden, pop-punk songwriting, evoking the brilliance of Guided By Voices' Alien Lanes from 15 years ago.
Pollard is rock's Woody Allen, a man who indulges himself for the sheer creative joy that comes from making music, with no regard for the law of diminishing commercial (or critical) returns. In this decade alone, he has released dozens of records under many names, ignoring every bit of conventional wisdom in the music "biz" that demands artists pace themselves commercially, releasing a record every few years and supporting it with heavy touring, promoting, et. al.
Yet despite the equanimity with which he approaches his myriad of releases, the Boston Spaceships announce that this is not just any rest stop on the Pollard intergalactic superhighway. The Boston Spaceships have not only landed; they're conquering the goddamn planet.
Robert Pollard was a fourth-grade schoolteacher until 1994, when Guided By Voices broke into the national consciousness with the release of the album Bee Thousand. With over a thousand songs registered to his name with BMI, Pollard is among the most prolific and acclaimed songwriters of his time, having been named of one Rock's "Top 50 Front-Men of All-Time" by SPIN magazine.
MORE INFO:
www.myspace.com/bostonspaceships
www.robertpollard.net
www.rockathonrecords.com